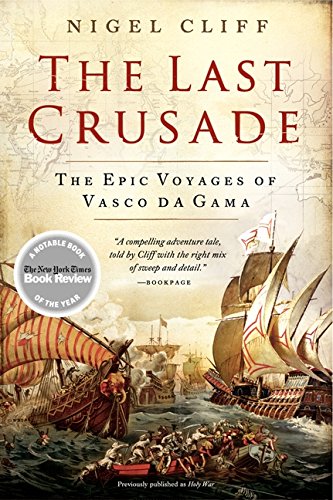 In July 1497, a small flotilla headed by captain Vasco da Gama set sail from Lisbon on a harrowing journey to discover a sea route from Europe to the fabled lands of Asia. With blood red crosses emblazoned on their sails, these explorers arrived in the Muslim East just as the hostilities between Christianity and Islam had risen to a new level of intensity. In two voyages spanning six years, da Gama fought a running sea battle that would tip the balance of power between Islam and Christianity and change the fate of three continents.
The Last Crusade is the epic story of da Gama and his crew of adventurers, chivalric knights, slaves, scribes, and convicts. It is also a rousing tale of superstition, intrigue, treachery, bravado, brinkmanship, and religion that explores the confused, sometimes comical, yet ultimately tragic collision of cultures. Offering a provocative new look at one of the most divisive chapters in history, Nigel Cliff argues that the dividing line between the Muslim and Christian eras—the medieval and modern ages—was drawn by da Gama. Now that the world is once again tipping back to the East, The Last Crusade offers a key to understanding age-old religious and cultural rivalries that are newly resurgent today.
Previously published in the US and other countries as Holy War: How Vasco da Gama's Epic Voyages Turned the Tide in a Centuries-old Clash of Civilizations.
A New York Times Notable Book of 2011
Named one of the "Top 100 Books of 2011" by the Kansas City Star
"Vasco da Gama not only outshone Columbus, argues this stirring narrative – his conquests changed the globe…. 'What Columbus had promised,' Nigel Cliff announces in this stirringly epic book, 'Gama had delivered.'… Gama's incident-rich voyage offers a far more thrilling narrative than Columbus's lucky blunder across the Atlantic… Cliff skilfully depicts it as a last after-echo of the medieval crusades… This is broad-brush history, but it is accurate, and enlivened by splendid spots of colour… Cliff's portrayal of Gama's voyage as a 'last crusade' is persuasive, as is his argument that 'the moment when Vasco da Gama arrived in the Indian Ocean was the moment when Europe could begin to believe that the global balance of power had shifted its way.' An intriguing epilogue attempts to put the expedition in a modern context."
— James McConnachie, The Sunday Times
"Nigel Cliff's excellent book… This excellent book tells the story with the swagger and excitement it deserves…"
— William Waldegrave, The Spectator
"…lively and ambitious… [Cliff] has a novelist's gift for depicting character.  From the fabled Henry the Navigator who, despite his appellation, 'never set foot on an oceangoing ship,' to Vasco da Gama himself, at once steely and quixotic, to formidable figures like Magellan and the brutal Alfonso de Albuquerque, who terrorized his victims by threatening to build a fort out of their bones and nail their ears to the door, he brings 16th-century Portugal in all its splendor and squalor pungently to life."
— Eric Ormsby, New York Times Book Review
"A fascinating and exciting story, ably told"
— Michael Kerrigan, The Scotsman
"Nigel Cliff's lively recreation of the life of Vasco da Gama… [a] skilful writer, he charms the readers with lively dialogue, vivid details, and overwrought descriptions…"
— Timothy Brook, Literary Review
"…one of the most readable, engaging and provoking books of the season, hands down. The thrill of reading about the great explorers and 'discovers,' so vividly remembered from my boyhood, is lost today—too much truth has spoiled the broth. Cliff recaptures that excitement here, in a narrative that puts no gloss on the evils and tragedies, and the equally dark blunders, of the European venture into the vast riches of the East… [Cliff] writes with considerable energy, humor and narrative skill, and his story, substituting oil for spices, sounds many familiar themes to us today."
— David Walton,  The Kansas City Star
"Readers who enjoy a yeasty narrative by a skilled storyteller will mark this book as one of their favorites for the year…For those who still revel in reliving in the pages of a book the adventure and spectacle and the appalling trials of those long-ago voyages, this is the book."
"…this excellent account of Portuguese exploration in the late 15th and 16th centuries…. Author Nigel Cliff is…a gifted popular historian… Cliff's narrative can be read on several levels. It is a cautionary tale about the dangers of religious fanaticism, and a critique of Western imperialism. But it is probably most effective as a gripping adventure story."
— Graeme Voyer, Winnipeg Free Press
"Holy War is a great tale…a rollicking tale of adventure and discovery…[raises] a question with relevance today as China and India's economies rise again…"
— James Flanigan,  National Catholic Reporter
"This is a story told with great flair and serious scholarship…awash with the colour, splendour and danger of unknown lands and peoples."
— James Eckardt, The Nation
"Cliff makes a valuable contribution by putting the piety and plunder of the spice trader into a global context."
— Jayakrishnan Nair, Pragati: The Indian National Interest Review
"This profoundly distressing picture of the world comes to brilliant life in a new book by British historian Nigel Cliff… It is an astonishing read on several levels. The language is clear and accessible. The details of this sweeping global history are riveting. And his thesis that Vasco da Gama's Christian "Crusade" — for that's what Cliff insists it really was — prevented Europe from becoming dominated by Islam is fresh and insightful, though no doubt it will attract some critics as news of it spreads… What this book does is provide us with a much clearer historical perspective to understand today's bin-Ladenesque mindset."
— Bill Tammeus, Faith Matters
"Epic…Da Gama's encounters with Africa and India make a compelling adventure tale, told by Cliff with the right mix of sweep and detail."
— Anne Bartlett, BookPage (Nonfiction Pick of the Month)
"Our top pick for September nonfiction is a riveting tale of adventure and empire…If sweeping epics, the clash of cultures or the thrill of new discoveries float your boat, you won't want to miss this book!"
— Kate Pritchard, bookpage.com
"Cliff tells an often thrilling tale of adventure… He effectively restores the luster of da Gama's achievement and provocatively reassesses the goals and significance of his expedition."
— Jay Freeman, Booklist
"In this fresh take on the history of the age of discovery, British historian Cliff (The Shakespeare Riots) not only recovers the story of Vasco da Gama's voyages (long overshadowed by Columbus's) for our times. He also uncovers da Gama's complex motives… Cliff's historical sketch opens new vistas on much-explored territory."
— Publishers Weekly
"A useful addition to a continuing lively discussion of Christianity and Islam, situated both in respect of religions and culture, as well as empires and trade."
— Kirkus Reviews
"An epic story of spies, treachery, and cultural collision that is not only an actual delight to read but is also a page-turner."
— Andrew Armitage, Sun Times (Canada)
"For anyone hoping to see da Gama placed above his seafaring rival [Columbus] on the pantheon of  'discovery' Nigel Cliff provides plenty of ammunition in his terrific and engaging Holy War ... what sets this work apart is the impeccable research and accessibility of the historical context surrounding this pivotal moment in history … the book flies by as he wraps historical facts in personal details. He deftly balances the historical nuts and bolts with human levity adding lightness to a subject matter that tends to be gruesome and greedy…. This is where Holy War shines, thanks to a mountain of foot notes (arguably the most impressive we've ever seen) and the author's vision. Cliff's version is truly a people's history and his attention to these details makes this usually academic terrain, we dare-say, riveting–and we've never used that kind of word to describe historical non-fiction…. Read this book as a rich and colorful glimpse into the place and context of the Age of Exploration. If you do you'll be well rewarded. With only two books under his belt … Cliff has already placed himself among the most readable historians working today thanks to his historian's eye for detail, his writing talent and rare foresight in arranging the details. In the tradition of venerable contemporaries such as Howard Zinn or David McCullough, Cliff tells the story from the ground up rather than the top down, ensuring that the information is not only accurate but engaging. This is a lively and fascinating re-telling of one of history's great naval expeditions and the powers behind it. Historical non-fiction simply doesn't get any better than this."
"Cliff's non-fiction narrative pulls the reader into the Dark Ages and to fifteenth-century Portugal as well as any novel. His wordplay brings to life the sights and sounds of epic voyages, the tension of battle and conquest, and the great Eastern treasures Gama and his men sought over decades. He also humanizes the horrors of Gama's voyages – the dangers of seafaring, piracy, skirmishes with African and Indian kings, and the slaughter of thousands of Muslims – stories not normally heard in the average classroom … In a moving epilogue, Cliff deftly ties the past to the present … well worth the effort for anybody interested in understanding the history of Christian-Muslim relations and the development of naval exploration and warfare, as well as for the reader who likes being rewarded for their effort with a great story, nonfiction or otherwise.
"If you want the long view about the on-going "War on Terror," read this book. If you had to pick just one book to get a better – and balanced – understanding of the tragedy of 9/11 this should be the one."
Listen to Nigel discuss the book with Tom Ashbrook and guests on NPR's On Point
Nigel discusses The Last Crusade with Kris McGregor on Spirit Catholic Radio
Nigel talks about The Last Crusade to former Harper's editor Lewis Lapham on Bloomberg News
Read an interview with Nigel in the Folha de S. Paulo